Why Should I Track My Habits?
The short answer: because it will help you to increase your productivity. Do you use a habit tracker? If not, today is the perfect day to start using it. At the bottom of this page, you'll find a link to download this beautiful printable Habit Tracker. You will be able to print it as many times as you need and use it over and over again every month. 
Why Should I Use a Habit Tracker?
It allows you to see how you've been progressing toward your goals.
It helps you to manage your time
It will inspire you to move forward to a better lifestyle!
It improves your motivation and ability to complete the habits.
To cross off what you've done each day gives you a feeling of satisfaction.
My recommendation is to keep an eye on both good and bad habits.
What Habits Can I Track?
In fact, any habit good or bad can be tracked.
Find something you're motivated to do. Think about the things that motivate you to achieve some goal and write them down. 
Make sure that your habit is achievable and you can do it.
Here are some habits you could start with:
Use planner
Exercise.
Pray.
Cleaning.
Social Media posts
Water consumption
Medication
Blog post
Financial goals.
Walking.
Time with friends.
Phone conversation with friends/parents/husband.
Reading.
Self-care.
Self-development.
Clean Inbox.
Clean the computer.
Pay bills.
Wake up early.
Time in Nature.
No money spent.
Hobby.
Homework.
No smoking
No alcohol. 
No sugar.
Weight Loss.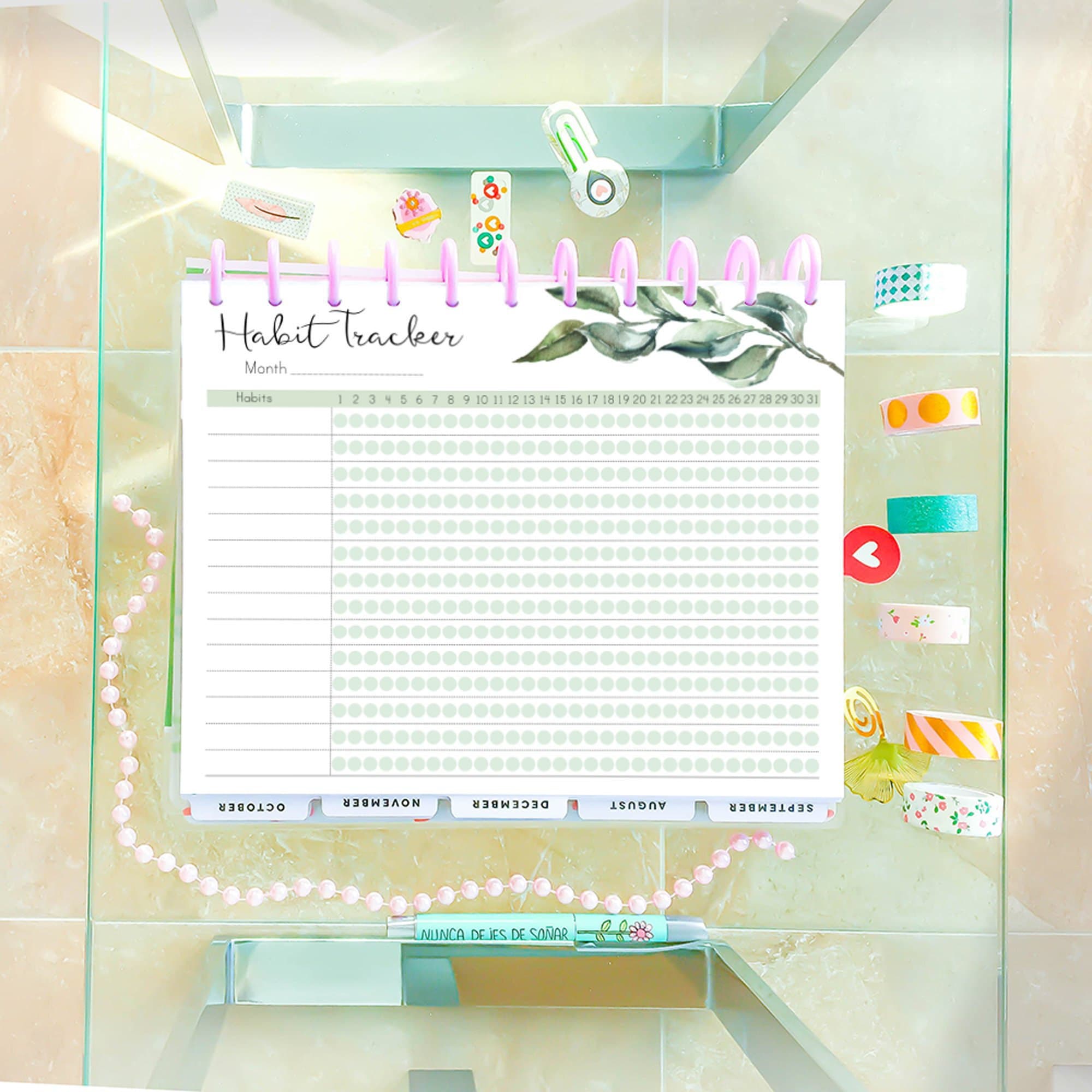 Free Printable Habit Tracker
Today I'm more that happy to share with you this printable Habit Tracker 8.5"x11". Please follow this link to download it for free. It will fit any Letter Size binder or Big Happy Planner. You can find more Habit Trackers of different sizes in my Etsy Shop. Just follow thi link and in the Search Box enter "Habit Tracker".
Happy habit tracking!